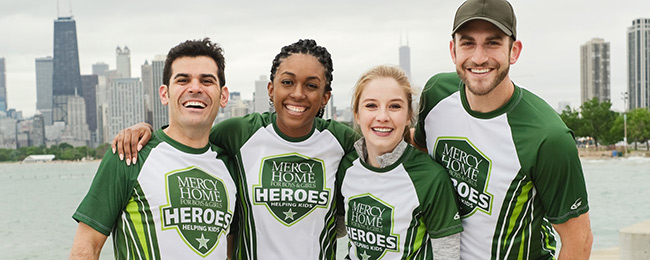 2020 Heroes Challenge
We want YOU to be a Hero for our kids!
Our team of Heroes is crucial to the mission of Mercy Home. Through physical challenges and fundraising, they provide our kids the tools they need to heal from past traumas and build brighter futures. Our Heroes usually run a marathon, but we know that isn't for everyone. The good news is, anyone can now be a Hero for our kids thanks to the 2020 Heroes Challenge.
Here's how it works: create your own challenge to complete before the end of 2020. Running challenges are great, but you can do yoga, pushups, golf, shoot free throws – whatever gets you excited and motivated. The goal is to push yourself and become a Hero by raising at least $250 for the children of Mercy Home.
You can also get your friends, family, or coworkers involved by setting up a team challenge. You could create a relay team to run 26.2 miles, or a foursome to play 36 holes of golf in a day. Anything that gets everyone motivated to participate!
We'll set you up with your own individual or team fundraising page that you can customize and share with your network. We will also provide information to share with potential donors about our Home and the mission that you make possible.
So what are you waiting for? Sign up now and become a Hero for the children of Mercy Home!